We offer both traditional and Roth Individual Retirement Accounts (IRAs) for plan participants who are retiring or separating from service, or for former employees with small account balances. Your employees can rollover their existing IPX workplace retirement account, transfer their IPX Safe Harbor IRA or an IRA from another financial institution or simply open a new IRA account and start saving.
With our proprietary IPX IRA, account holders, regardless of account size, have access to the same line-up of low-cost mutual funds through our Fund Portal, or they can access exclusive managed portfolios set up by professional investment strategists.
For those who want a fixed-income account, we offer an option that is backed by The Standard and offers a competitive interest rate. IPX IRA account holders can self-direct their investments, work with a financial advisor of their choosing or connect with a financial advisor who is registered on the IPX Platform.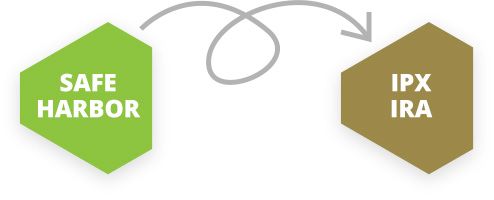 If you have elected the IPX Safe Harbor IRA as the mandatory, automatic rollover IRA for your plan, then your former employees also have access to the IPX IRA and its multitude of investment options when they claim their IRA and request a transfer to an IPX IRA account.
Our customer service associates are available to answer questions and assist your employees.
The IPX Retirement® Customer Service department is open Monday through Friday, 9:30 am EST to 6:30 pm EST and can be reached at 844-788-3474.
Contact us to learn more about the IPX IRA and how it can benefit your employees.